There are countless different styles of chains on the market. Can you distinguish between various chains? Perhaps more people will confuse, which style of chain is more suitable for me to wear?
To help you make your choice, we have listed the most common types of chains that you need to know about.
Bead Chain
A bead chain is composed of a series of beads that are linked together to create a chain. The balls can be either connected very close together or have small spaces in between them to allow for some embellishment.
Kingka men's beaded bracelets are made of genuine stones, featuring uniquely designed embellishment and logo engraved element.
 https://kingkajewelry.com/products/mens-wristband-with-tourmalated-quartz-woven-cube
https://kingkajewelry.com/products/mens-wristband-with-stones-reptile-charm
There is also a wrap-around style specially designed for women. Tiny beads are linked together, black and gold tone shows the gentleness and elegance of women to the extreme.
https://kingkajewelry.com/products/women-wrap-around-bracelet-crystal
Cable Chain
A cable chain consists of a series of identical oval links that are interconnected to form a functional and beautiful chain. They are sturdy and because they are uncomplicated, it is easy to fix a broken or misshapen link. And there must be a surprise when paired with other chain.
https://kingkajewelry.com/products/mens-beaded-cable-chain-bracelet
Curb Chain
Curb chains made of a series of interconnected, uniform links. These links are designed to lay flat even while interlocked. They are heavy than oher chain, chunky curb chains have a masculine touch and are especially popular among men.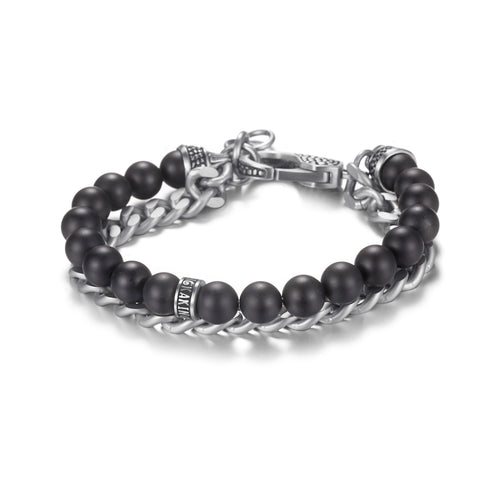 https://kingkajewelry.com/products/mens-wrap-around-bracelet-with-stones-curb-chain